Elite Sealant are specialist mastic sealant supply and fit contractors to UK house builders and commercial construction contractors throughout central England. Continuing the recent successes of website launches of our parent company Elite Maintenance and our sister company Orme Construction, we are happy to announce our new website.
Following unprecedented growth and recent industry increase in build schedule and demand, our new website makes it easier than ever for house builders and construction contractors to discover and contact us to utilise our expert sealant services.
Knowing that our website influences the way the world sees Elite Sealant, we recognised the need to improve upon our previous website to protect our online reputation, improve user experience and support company growth.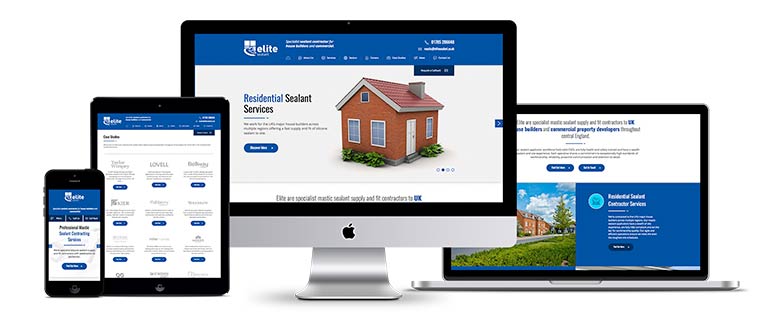 If you're on-site or on the go and would like to enquire about our services, that's no problem as the new website is mobile and tablet device friendly. This makes getting in touch with Elite Sealant easier than ever.
The website was built in partnership with web development company, Dusza, and with the new simple contact and callback forms, you're just a click away from getting in touch to discuss your residential or commercial mastic contracting needs with one of our friendly team.
Managing Director, Andrew Orme said, "I am delighted with the new website and it visually represents our exceptional standards at Elite Sealant.
Our investment in the website demonstrates our on-going commitment to business progression and ensuring that online our reputation is as strong as it is offline.
We've had great feedback from our existing clients as well as new prospects and we look forward to an exciting year ahead."
Stephen Clark, Managing Director of Dusza said, "As part of Elite's wider marketing strategy to support serious growth in 2017, Dusza were commissioned to develop a strategy that better leveraged the power of website marketing.

As the internet is accessible 24/7/365 and available to anyone all over the UK, a website has the ability to break through geographical barriers and enable new clients discover the benefits of Elite Sealant.
As discussed during our strategy meeting, it's not all about sales either. To support growth we identified objectives ranging from marketing job vacancies coupled with an easy to complete

online application saving Elite recruitment costs, to building deeper relationships with existing clients, in addition to winning credibility with potential clients.
The result is an exciting on-brand website that better communicates its service offering to those that matter most and we're genuinely pleased to be part of their success story."
Everyone at Elite Sealant hope you enjoy the website and should you require any of our services, please don't hesitate to contact our team.